Atlanta Immigration Lawyer Victor Ifeanyi Okeke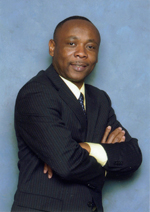 Victor Okeke's law office is exclusively devoted to the practice of Immigration Law. Because immigration laws and regulations are frequently changing you want an attorney who is 100% focused in this field.
Victor is an active member of the State Bar of California, having been admitted to the Supreme Court of California. He is also admitted to the United States Court of Appeals for the Fifth Circuit and the Eleventh Circuit. Victor represents clients before Immigration Courts across the United States and also before the Board of Immigration Appeals.
Victor attended the University of Nigeria from where he obtained his Law Degree. He subsequently attended the Nigerian Law School and was admitted as a Barrister & Solicitor of the Supreme Court of Nigeria. Whilst at the Law School, Victor won the prestigious Debo Akande Prize for the best student in Criminal Procedure Law in 1987. He practiced law in Nigeria for almost a decade before he came to the United States.
Being an immigrant himself, Victor is in a unique position to understand what you may be going through and experiencing as an immigrant. Victor will give you the dedicated and personal service that you deserve, handle your matter personally, return all your calls promptly and keep you abreast of all developments.
Professional Associations
Member American Immigration Lawyers Association (AILA)
Member State Bar of California
Member Nigeria Bar Association
If you need the assistance of an attorney focused exclusively to immigration law regarding any of the following type of issues, feel free to call the Law Office for a consultation. The Office charges $150.00 for an initial consultation.
Adjustment of Status Applications (Before the USCIS or before an Immigration Judge)
Consular Processing for Immigrant Visas
Non Immigrant Visa Applications such as those for a visitor, student, athlete, entertainer, temporary workers
K Visa issues
Diversity Visa issues
Visa Waiver Program (VWP)
Change/Extension of Status
Prosecutorial Discretion Applications following current guidelines
Motions to Reopen before Immigration Courts or the BIA (due to new relief, changed circumstances or in absentia order)
Response to RFE/NOID
U Visa/VAWA 360/VAWA 751
Asylum Applications (Affirmative and Defensive)
TPS/DED
Withholding of Removal
Relief and Protection under the Convention Against Torture
LPR Cancellation
Non LPR Cancellation
Deferred Action
Voluntary Departure
Affidavit of Support Issues
CSPA issues
Waivers including I-601A Provisional Unlawful Presence Waivers
I-751 Waivers
Detention and Bond Eligibility Issues
Issues with Convictions (CIMTs, aggravated felonies and other deportable convictions)
Lawful Readmission subsequent to Deportation
BIA Appeals
Petitions for Review
Citizenship by Naturalization
Citizenship by Derivation